Atlantic Fleet – War Game arrives on Android Market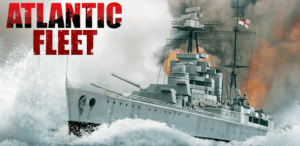 Atlantic Fleet , as the title suggests  is a turn-based tactical and strategic simulation of the Battle of the Atlantic during World War II.  All vehicles in the game are obviously motivated by means of World War II and are reproduced with high-fidelity 3D models.
The controls are very immediate during our turn we can control the fleet exploiting  indicator for the direction and one for the speed , as regards the management of the movement phase, and the other two indicators for directing the weaponry and to manage the inclination , along with the committed buttons to fire and the selection of weapons.
On the other hand, a map will be available to trace the location of our fleet and the opposing, the ability to switch to a view in first to identify targets, and a number of special controls for the use of submarines , their torpedoes and attack aircraft . There are also depth bombs, flares, smoke screens and many other elements that are increasing the number of tactics that the player can come up with. The whole is then framed in a three-dimensional graphics engine realized with the aid of Unity extremely rich in details. Also excellent the effects weather , of light and the yield of the water , although more closely you may notice some little defect that could easily be avoided.
Features:
– No In Apps/Advertising. No Pay-to-Progress. One Price = Full Game
– Stunning full 3D graphics and environments, including underwater
– Unique blend of deep strategic planning combined with quick tactical decisions
– Play as the Royal Navy and her allies or Kriegsmarine (German navy)
– Up to 10 versus 10 ships in combat
– 3 Game Modes:
1) Single Battle Editor with 30 Historical Missions for standalone combat
2) Campaign of 50 missions per faction
3) Full Dynamic Campaign from 1939 to 1945
– Individually saved games for each campaign and faction
– Multiplayer Hotseat for Single Battles
– Sink ships with realistic buoyancy physics, not with hit-point bars!
– Target specific ship subsystems to sink or cripple the enemy
– Destructible ships, subsystems and visual damage to ships
– 60 historical ship classes representing over 630 ships and 350 submarines
– 13 playable aircraft
– Submarine warfare, wolf packs and convoys
– Carrier operations and land-based air strikes
Click Here  to download the Game from Play Store .