Best 3 Music Apps for iOS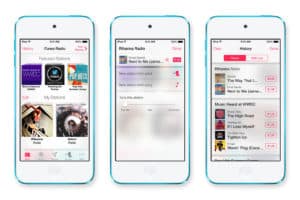 Today's smartphones are good for every job they are made for. Not just jacks of all trades, rather than master of all trades they perform. Playing music is one regular requirement every phone needs to have these days, not just smartphones. However, people expect a lot more from the smartphones when it comes to playing music because these highly configured smartphones can surely provide crystal clear sound quality, impressive playback features and definitely better on the go options. iPhones and iPod Touch – both these devices run on iOS and capable of playing music and people do expect to do more with them. There are many music based apps for iOS platform on the iTunes App Store; we have checked them out and nominated three to be the best.
iTunes Radio
It hasn't been long since the iTunes Radio started rolling out. In fact, it came out with the latest iOS roll out back in September. Despite being around for a very short time, the iTunes Radio has become one of the top three Apple device music apps in most such selections. The radio is definitely an online radio and not a hardware radio chip based, it's a streaming service. The number of services iTunes Radio can access is pretty high. The music library contains more or less 25 million songs on the database, and you can tune to the radio to listen to them anytime you want. There's a featured section as well, where the might be a story related to the song and how it was discovered etc. You can choose your preferred genre of music; bookmark for later access and the standard music playback features are there in this app. We expect that this app will undergo further developments in the upcoming iOS versions and get even better than it is now.
Spotify
Like iTunes Radio, the app Spotify is another online streaming based music app. You can choose many tracks from different artist and genres, and can listen to them for free. However, there's a monthly subscription charge that applies if you want to listen to music; Spotify doesn't promote piracy. There are nearly 20 million songs in their library so your monthly subscription won't be worthless, either. However, downloading the app from the App Store is absolutely free. The only money you have to pay is the monthly subscription fee and you are good to stream your favorite music for a month. Renew the service every month to keep the service going.
Pandora
For iPhone and iPod users, and maybe the music enthusiast iPad owners – Pandora still stands out as one best music player app. Custom radio stations are Pandora's forte and before there were these online radio streaming apps, people kind of relied on Pandora for custom stitched radio stations. If you love to listen to radio before going to bed, you could just set the sleep timer so the radio stops after a certain period of time. Falling asleep to the songs you love is such a heavenly feel! And to make the app more desirable to a wider audience, all the restrictions there used to has been lifted. Pandora is a free app for listening free music; what else needs to be there?
Conclusion
Online music streaming is now more popular than ever and that is why we have looked for the best movie apps for ios  . If you think we have missed out a favorite, do let us know about it.