Best 3 Racing Games for Android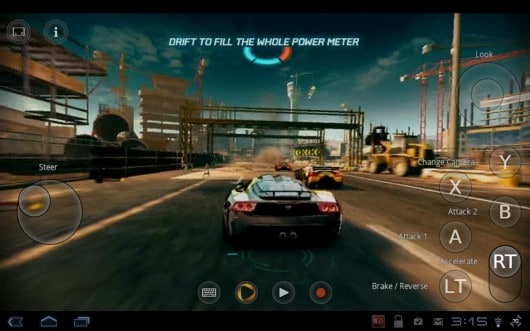 If someone ever wants to make a list of what kind of games never lose their appeal, then racing games would surely top the list. Thought first person shooting games share a big portion of nostalgia and appeal with the racing games, but still racing games outrun the shooting ones. Chances are, your first ever electronic game was a racing game. Over all these years and generations, racing games have truly gone a distance. From the Tetris game machine to today's smartphone, everyone loves playing racing games. Android devices of today are so high configured that they can play high resolution HD games without any lag or stutter. This advancement in technology enables us, the gamers to carry our games wherever we go. Racing games are still the favorite of gamers of every age and we have made an attempt to list the best three racing games for Android devices.
Asphalt 8: Airborne
Indeed the best racing game for Android. There have been many versions of this game till now and as you can assume, the Airborne is the 8th version. Asphalt 8: Airborne has been around for pretty long as there's no new release for quite a long time now, the developers are probably pretty busy making a new one. Forget everything you knew you about realistic driving, let's go surreal while racing. It's a mobile racing game anyways; you don't have to be brutally serious about reality. Getting lost in a place where everyone is a petrolhead matters more in Asphalt. There are many modes to race like the career mode where the player proceeds through various levels and unlocks the further levels, new cars and mods, earn points to modify the car etc. The game offers single player mode and online multiplayer mode as well. There are few interesting driving modes that the gamers will get to explore. Every car inside the game is equipped with latest mods so you won't feel backdated. Let the turbo kick in!
CSR Racing
Before all these types of street racings, the swag was all around drag races. America's favorite version of racing a car used to be drag back when the first Fast and Furious movie came out and it was reflected all throughout the movie. If you are still bit nostalgic about the high RPM moments of drag racing, it's time you get your hands into a racing game that's specialized for drag races.
Since it's a game, you don't have to worry about whether your air intakes are sucking in air properly or the turbo kicks in on time. Rather, just worry about shifting the gears in time and your car will be pushed through the road to the finishing line. Shift, push, cross the finishing line first – that's all the fun in CSR Racing.
Death Rally
Not just a racing game but also shiny touches of combat ready gaming. If typical racing sounds boring to you, then get your hands on Death Rally. There are death matches where you get to race with loads of weapons. Race and earn cashes, weapons and even nitro speed boosts. It's a mess of all these things combined together, sure to give you the adrenaline rush like the turbocharger kicking in at the highest RPM. It's all very technical, but that's what being a petrol-head is all about.
Death Rally is a really good game for those who like taking out rage on roads.
Conclusion
These games are fantabulous. And like every racing games and car movies say, limit your racing to the games. In the roads, drive safely.