Relook is the app for iOS to touch up our selfie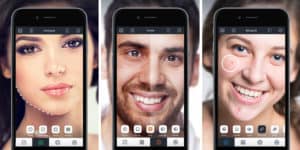 The Finnish app development studio Sumoing has just launched Relook,a new photo-editing app for iOS that it calls the first professional-level facial retouching app. It is a new software for the iPhone that allows us just to correct all possible defects of the skin, but also to look more or less tanned, to change the color of hair and eyebrows and so on.
Relook's specialty Spot heal tool fixes skin spots and blemishes by intelligently replacing them with the best skin match. Just choose the tool and tap. The Soft clone tool lets you remove lines and wrinkles without producing a plastic, unreal look. A Clarity tool can call attention to flattering features, while the Defocus tool separates faces from the background of the image.
You can use the app to lighten skin tones, remove the red tones that can make people look infirm, brighten eye color, add intensity to a portrait and adjust lighting and shadows for a more flattering overall effect. Reshaping controls let you correct lens distortions and refine face and body shapes.

The app uses what the company calls "Bright-3″ technology, a skin layering and frequency separation technique that lets you improve the appearance of skin while maintaining a natural look.
You can buy it at the price of € 3.99 from the badge below, perhaps after watching the video at the bottom.