Which HBO Subscription Is Best For You?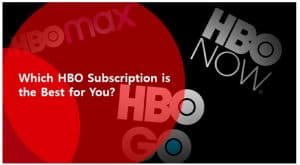 More than 80 % of Americans have a smartphone. While many own a TV as well, an increase in the ownership of cellphones is increasing the demand for entertainment on the go. This is consequently giving rise to streaming services as well. People now like to subscribe to entertainment options that they can enjoy on their mobile even when they are at the park, train, or anywhere.
However, the dilemma about how to access new shows and movies as the release continues. Even if you are a cord-cutter (if you are, you're not alone – if you want to see the cable tv statistics click here), you need to wait for your shows until the next season hits DVD or Netflix. Your only option is at these times is to go to the cinema, but the charm of watching a movie at home with a bowl of popcorn is something cinema cannot match.
Thankfully, HBO has come to your rescue. HBO provides you two types of subscriptions that you can opt to enjoy your favorite seasons and shows without any break. HBO GO and HBO NOW are two subscriptions that HBO offers, both suitable for you when combined with high-speed internet.
Comparison of HBO GO and HBO NOW
You might be wondering "If both are from the same company then why are they two and which one will be the best suitable for me?"
We will discuss both subscriptions and their benefits so you can choose accordingly. However, before we do that make sure that you have high-speed internet connection so you can enjoy your entertainment the way it is meant to be.
Spectrum internet service offers high-speed internet, which is best for seamless streaming and online gaming. The best part is that starting from April 6, if someone subscribes to AT&T Unlimited Plus, which is the provider's wireless plan, they will get HBO included in the package. This offer is for both existing and new users. Users who subscribe to HBO through AT&T video service DIRECTV, DIRECTV NOW or U-verse TV can now have HBO for free. Users who don't have HBO but have AT&T video service will now get HBO for free. Those who don't have AT&T video service can access HBO through DIRECTV NOW and HBO Go apps
This will give you unlimited access to your favorite shows like Game Of Thrones etc. Since it's a wireless plan, you can easily avail HBO through this offer, without having to pay anything extra. It has also been revealed that AT&T customers who pay for HBO will have access to HBO MAX for free once it is launched on May 27.
Content
Since both are offered by HBO, there are similarities between them. Unlike services like Netflix, where you may use the fastest vpn for streaming to help you unlock content that is on Netflix in a different country, every film, comedy special, and television series that HBO offers is available on both at the same time as its original broadcast. There is no difference in the content. Both apps also have a similar interface.
Price
Whether you subscribe to it through the app or have it as an add-on from another device like Hulu, HBO NOW costs $14.99/month. It is a standalone service that you can subscribe to without the need to subscribing to a cable TV provider. As far as HBO Go is concerned, you need to have an HBO subscription with your cable TV or Satellite TV provider. Since HBO is a premium channel it can cost you + $5–$20/month.
Compatible Devices
HBO GO was unveiled in 2010 while HBO NOW in 2015. However, both streaming services are compatible with almost every device that is currently being used in the US. There is no difference in supported devices of HBO GO and HBO NOW. Below is the list that is compatible with both streaming services:
• Amazon Fire tablets 3rd Gen+
• Amazon Fire TV 1st Gen+
• Amazon Fire TV Stick 1st Gen+
• Android Phone and tablets with Android 4.1+
• Android TV with Android 5.0+
• Apple iPad having iPad 2nd Gen+ or iPad Mini 1st Gen+
• Apple iPhone with iPhone 4s and newer
• Apple iPod Touch having iPod Touch 5th Gen+
• Apple TV
• Chrome set
• Windows 10+
• macOS
• All browsers higher versions i.e. Safari 11+, Internet Explorer 10+, Google Chrome version 62+, and Firefox version 63+.
Restrictions with subscription
Considering the above, HBO Go is more complicated than HBO NOW. If you are willing to use HBO Go on a compatible device you will need to get the authentication of the service from your cable service provider or satellite provider, whoever you are subscribed to. This is a bit tiresome, but there is no bound on how many devices you tie your account.
As for HBO NOW you can access it on as many devices as you want, there is no complicated authentication required. Just sign in to your HBO NOW account and stream all your favorite content.
Both services, however, will cap you for excessing the number of videos being watched simultaneously that is just for security purposes. When you try to stream videos on several devices at the same time you will receive a message that you have exceeded the number of simultaneous streams.
Streaming speed and quality
As both the services have the same content delivered at the same time, there is no difference in streaming quality and speed. However, for an enjoyable streaming service, fast and reliable internet is recommended.
Which is better HBO NOW or HBO GO?
Well, this question completely depends on you. Looking at the above-mentioned features of these services, we see that both the subscriptions have their own traits, but it can be a bit complicated to choose one. Each can be appealing in its own way.
Go is a preferable choice for people who are already subscribed to HBO because, in a way, they already own it. However, if you are one of those who don't already have HBO on your cable, and your provider charges extra for it, then you have to do a cost-benefit analysis. If it is costing you more than $15, then you should opt for HBO NOW.
HBO Now is a good choice for those who prefer subscriptions Hulu, Amazon Prime, Netflix, and other streaming services like PlayStation Vue, over traditional cable TV. If you are a Cord-cutter, HBO NOW is the only and the best option for you to access HBO content. As NOW is supported on the same devices, it is all up to you for which you go for.
Summing It Up!
The few important take-ups away from this article is that you should see which satellite/cable TV service provider gives HBO the cheapest, note if your devices are compatible, keep in mind your usage need, does your internet connection is smart enough to support online streaming of shows if you wish to go for HBO NOW. These are some of the important things you need to keep in mind when opting for an HBO subscription.
     

Baldwin Jackson is a successful digital marketer with expertise in search engine optimization and content marketing. The perfect balance of his analytical ability and creative thinking is what sets him apart from other practitioners in the digital marketing realm. He has helped a lot of small and medium-sized businesses in crafting their digital marketing strategies that are not only cost-effective but delivers results as well.
Baldwin is also a proud father of two kids and a Sports enthusiast. When he is not working, you will find him watching ESPN and NFL network. He has been able to get an amazing package on his favorite channels from Buytvinternetphone.com.