Cyware: Bringing Cyber Awareness to Your Doorstep
The dynamics of cyberspace are changing at a very fast speed.  Along with it change is also being witnessed in the fundamental crux of cyber security newsand internet security. While the world is moving towards a proactive and vigilant cyber strategy and there is also an increasing focus on cyber awareness which is being touted as the guiding light for cyber security. Cyber awareness is not only the guiding light but a key to threat intelligence which in itself is being considered as the lynchpin of entire security paradigm of the post PC era. Thus to stay ahead of multifaceted cyber threats, it should be convenient for a cyber security professional to share threat intelligence in real time with their leadership team, security operations, clients, and peer organizations and this is what exactly Cyware does.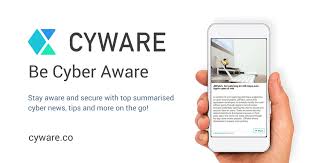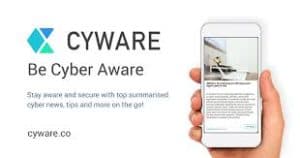 Cyware is an App whose specially designed to generate cyber awareness. It does so by providing expertly curated news from the domain of cyberspace. Powered by IBM's Watson it performs the desired task by identifying and selecting best of the stories from amongst the tens of thousands of the cyber stories published everyday on the internet. Subsequently these stories are summarized while the essential facts are retained in these crisp and short summaries. They are then timely disseminated so that users stay ahead of the threat actors. For any security professional or a general internet user, Cyware provides customised news and gears them up with latest knowledge on how to beat the faceless cyber criminals.
Every security professional needs to realise that cyber criminals are also changing at a very fast rate by adopting new strategies. Everyday there are new kinds of threats and threat actors. The only sure shot way a person can be safe from cyber frauds and scams is by always being a step ahead of the cyber criminals. The challenge is to always remain a step ahead from these state and non-state actors for which a security team needs to take cognizance of all happenings around the world and process the information in a meaningful form. Cross country and Cross industry attacks need to be well studied. To remain aware of all these threats in advance would require keeping a tab on every news which would require a continuous massive effort on part of the individual or the security team. But Cyware as a solution can replace it effortlessly.The news provided by Cyware is customised in such a manner so that it can be readily received, processed and consumed by the user.
Cyware has high utility for the cyber security professionals and it is going to be game changer in the field of cybersecurity. It should be well knit with the security paradigm of any organization, and you can see how it will emerge as force multiplier for any organization. No professional cyber security team can choose to ignore Cyware.