Why Is It a Good Idea to Reset Your Mac Once A Year?
The ultimate troubleshooting tip to straighten any kind of problem you encounter with your Mac is resetting your system. This is the most powerful munition you have in your troubleshooting armory, and it puts your system back in the state it was in when you first brought your Mac home. With this option, you don't have to deal with the bugs, clutter, or even malware that may have built up on your system.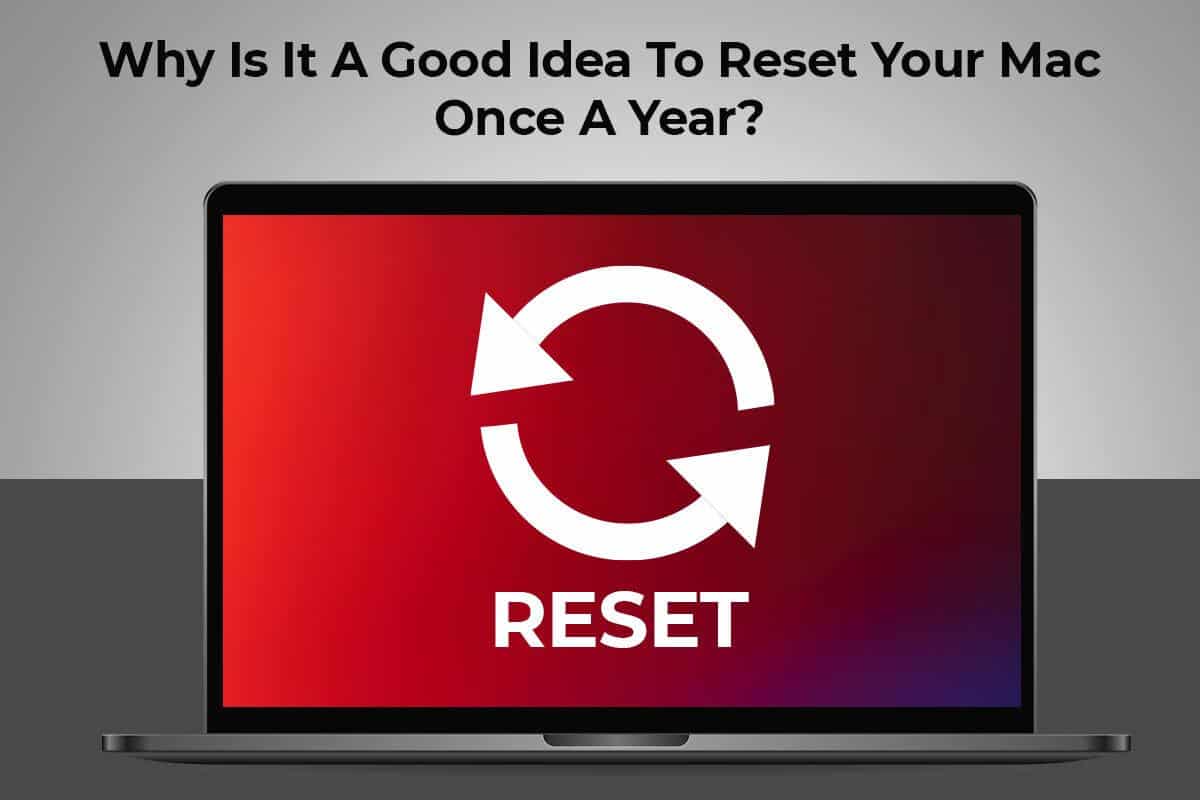 Thankfully, resetting your Mac isn't as difficult as it used to be. Apple has put tools for the job inside the operating system so that you can debloat your system, remove the corrupted setting files and clear your system of all the superfluous stuff that is taking up space on your Mac. 
You might be wondering how to reset MacBook Air to factory settings or any other Mac you may have. You can follow these easy steps:
If you are running macOS Monterey, click the Apple menu > choose System Preferences > select Erase All Content and Settings. If you are running macOS Ventura, click the Apple menu > select System Settings > click General > click Transfer or Reset > click Erase All Content and Settings. 

After this, the erase assistant will ask you to sign in with your administrator credentials. Type the password you use to log into your Mac and click OK. 

If you are asked to back up your system before resetting it, open

Time Machine

and back up to an external storage device. Or you can click Continue to proceed without creating a backup.

All the settings, data, media, and other listed items will be removed. 

If you are asked to sign out of your Apple ID, type your Apple ID password and click Continue to proceed with erasing all content and settings. 

Your system will restart and show a black screen. You will have to reconnect to Bluetooth accessories, Wi-Fi networks, etc. 
Now you know the Process of Resetting a Mac. But do you know why a Mac Reset Must be on Your To-do list Once a Year? Let's Find out. 
Are you facing system slowdowns? Is the performance of your Mac sluggish? Is your system taking too long to load? There might be issues hindering the proper functioning of your system. Resetting your Mac will give your system a fresh start and make your device run in the desired manner. So, resetting your device once a year will ensure its smooth functioning. It will eliminate all the glitches and make it seem as good as new. 

Factory resetting is a simple and quick option when you want to get rid of unwanted junk and trash in a single go. This saves precious time as you don't have to go through folders and delete unnecessary files individually. In a single swoop, all the files and unnecessary junk will be deleted. If there are important files on your computer, you can create a backup for them. After resetting, you can download the backed-up file and continue using your system as if nothing has happened. Also, you can personalize your system without compromising the memory or other resources. 

Reset wipes out most unwanted applications and malware that might have found their way into the system. Then, your system will be back to square one, and you can start from scratch. After this, you can load only the applications and files you need. 

Factory reset revolves around issues in the minimum possible time. Most users are scared of taking this route, thinking the process is complicated. But factory reset on Mac only resets the settings and erases all contents, but the operating system remains installed. You do not need to reinstall the operating system. There's also no need to call a technician to help you with the process, as Apple has made it easier with every new software update. If you still need help, refer to the abovementioned steps. 

After the reset, the files originally installed in the system will remain. You can back up other files and media downloaded and saved on your computer. This will ensure that all the redundant files and documents are removed from your system in the least possible time. 

Reset also removes all the saved passwords from the system. So you don't have to worry about your passwords falling into the wrong hands. 
The Bottom Line 
Factory reset is a tool designed for the purpose of quickly resetting a Mac so you don't have to waste your time removing unnecessary files and documents. A quick reset will give your system a fresh start and fix all the issues and glitches you might be encountering. When you restart your Mac after a hard reset, you must re-login to all the accounts, including your Apple ID.